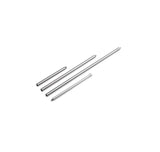 Spin stainless steel spike
Table fire, lantern or garden torch!
SPIN fascinates your guests as a table fire, lantern or garden torch. A vortex of fire in a glass - in the middle of your table! With the optional elevating foot, you can even raise the unique mood enhancer a little higher! In the version with ground spike, SPIN can also be placed in the lawn. SPIN will lend your next garden party a very special atmosphere as the eye-catcher of the evening.
Use the stainless spike to create a SPIN flame in your garden or in your plant pot.
Price is only for the Oak Spike - Spin and glass clinder is extra