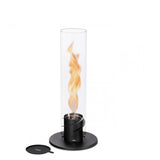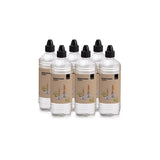 Spin 120 Black - a flame whirl for your home
Includes 6 bottles of Bioethanol Oil 
How is the SPIN flame vortex created? It's very simple: Höfats bioethanol burns in the glass cylinder, the flames rise and are made to rotate by three baffles. The chimney effect in the glass enhances the effect and draws the fire impressively upwards!
SPIN fascinates your guests as a table fire, lantern or garden torch. A vortex of fire in a glass - in the middle of your table! With the optional elevating foot, you can even raise the unique mood enhancer a little higher! In the version with ground spike, SPIN can also be placed in the lawn. SPIN will lend your next garden party a very special atmosphere as the eye-catcher of the evening.
Choice of silver, black and gold 

European Product Design Award™
Iconic Award
In order to activate your SPIN you will need bioethanol oil which can be bought through our shop.