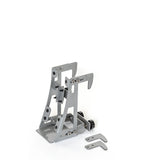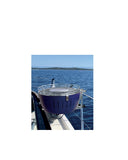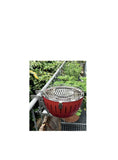 Railing and Guard Rail Holder - New!New!
With this practical holder you can attach your LotusGrill safely and stably to round orsquare railings, guardrails or profiles. Adjustable for railings between 10-60 mm in
diameter or cross-section. Adaptable also to inclined support posts.

The LotusGrill is securely and gently fixed to the holder with rubber stud protected fixing elements
in a few simple steps. The holder is particularly practical for smaller balconies, boats, bicycles and everywhere where there is a lack of space or safe storage options. The holder is suitable for LotusGrill models S, Classic and XL.
---
Weight 
 
with short hooks: 1,23 kg 
with long hooks: 1,26 kg

Material
 
Powder coated steel, stainless steel, plastic, rubber
 
Dimensions
 
107(B) x 128(T) x 208(H) mm
Content
 

Holder, 1 pair hooks 10-35 mm, 1 pair hooks 35-60 mm